Keeping a design journal
For my portfolio exercise from Daniel Pink's "A Whole New Mind", I chose to create a design journal, because it was something that I already did, to some extent; I'm interested in graphic design, and in an effort to become a better designer and to refine my eye a little bit more, I try to collect good graphic design when I see it, usually just colors or fonts or concepts that I like. However, I kept it mostly online, and I realized that I had a box of things waiting to be collected into something more permanent. I also thought I should tell the story visually, since design is, obviously, visual.
I started off with this paperback notebook with an owl experimenting with a pogo stick on the cover. I enjoy writing, so I always end up with around 13 empty journals at the end of every Christmas, so I just snagged my favorite one that was waiting to be used.
My first entry was a clothing tag from a store in Sweden called Indiska that I really liked. I obviously can't tell what it's saying, but I liked the use of light blues, light greens, and vibrant reds, and the textures of the thread in the photograph. Also, the placement of text slightly above center was interesting.
The drawing on the bottom half was a sketch that a friend of mine did while we were hanging out in his kitchen. He created it using a fine tip red Sharpie, and a fat tip turquoise blue Sharpie. I thought the color contrast was appealing, and I liked the way that he used the two completely different thicknesses together to create one image.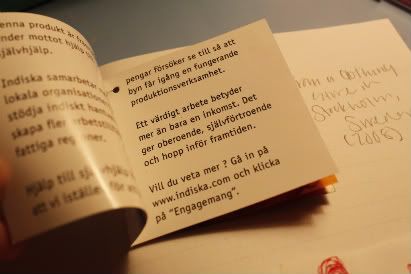 Here's a close-up on the text inside the tag. I obviously can't read it, but I like the font. I'm thinking it's a variation on Lucida Grande, but I'm not really sure.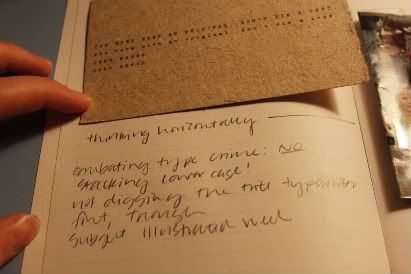 A concept that I've been trying to integrate into my designs is "designing horizontally". This quote card utilizes this concept well, stacking four lines of text horizontally. The first two lines say the same thing, and the last two lines say the same thing--it's a quote by John Mason: "You were born an original, don't die a copy." The subject matter was illustrated well by the repetition of those sentences, and I like the look of it overall, but I'm not a fan of the trite typewriter font.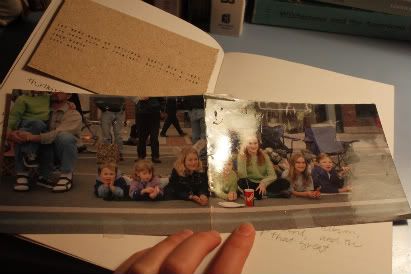 Pink also challenges designers to find bad design, and this was a glaring example that was taped above my desk. It's one of those "panoramic shots" that my parents were really into when I was younger, probably to capture as much of my awkward pre-teen years as possible (as evidenced in this photo -- I'm the one flashing the peace sign). It's a good concept, but for parents trying to preserve these photos for years to come, maybe it's not the best format. They are prone to bending, and they don't fit in traditional photo albums. Maybe it would be a good design to create a more horizontally-inclined photo album, with specially designed sleeves for panoramic format photos.
Putting all of these pieces of paper and clothing tags and old photos into one place has really helped me to refine my thoughts, and to condense them into something tangible. By documenting my thoughts on these designs, I have something solid to work with when I need inspiration for one of my own designs.