Michael Kenna and the Environment
Something I have become interested in learning more about is photographing landscapes and using light to create contrast in my photos. I started to become interested in Michael Kenna because he took amazing photographs of landscapes. Michael Kenna was born in Britian in 1953. He takes contemporary landscape pictures in black and white. Sometimes he takes pictures at night with extremely long exposures. He has also worked for large companies, such as Audi and Mercedes-Benz. One of his photos, Snow Covered Pier, caught my attention.
This information is from the Weston Gallery website. The Weston Gallery is in California and displays some of Kenna's work. They have some of Kenna's work on exhibition.
This topic relates to me and my interests because I like taking pictures of landscapes using light to make things look nice. I would like to try it in black and white. One thing that surprised me was I had seen Michael Kenna's work before, in a calendar. One thing that I wonder about this person's work and life is how someone can take the perfect picture in nature? How do you get your environment to do what you want it to?
Michael Kenna was involved with incorporating the natural with the artificial, as we can see in Abandoned Oyster Dock and Highway One where he uses the man-made pier and road as a bridge into the world of Mother Nature.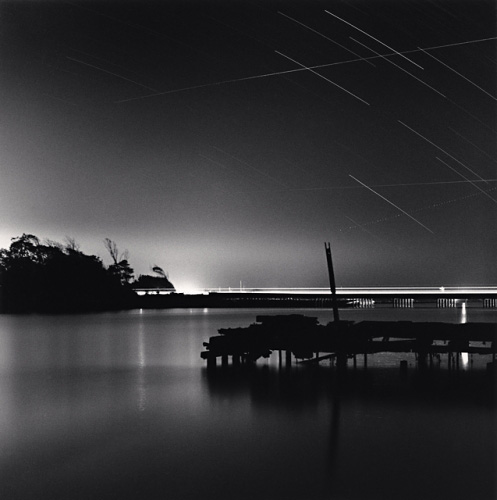 Abandoned Oyster Dock and Highway One
Being that I didn't have a lot of background information on Michael Kenna, I chose to do some more research. As I searched for another source of information about him, I came across Michael Kenna's website. This website provided a lot of information and opinions about Michael Kenna's photographs and personal life.
I saw that he did a lot of commercial work for large corporations. This didn't really surprise me all that much, but it did make me feel weird because I realized that I had seen his work in that aspect before as well.
Now that I have done this research, it makes me think more about my own work Double Sunset. I think of this piece because I also used a man-made object to merge the natural and unnatural (the dock).
All of this really makes me take a new look at the world of photography. I'm really thinking about starting a series of photographs about a single theme, taken from a single location. This is what Michael Kenna did, so I would like to try it as well.
Next, with my own work, I hope to start taking sets of pictures that revolve around a single theme. I would like to try taking some black and white photographs. I would like to try having the weather to revolve around my photographs, instead of my photographs revolving around the weather.