Why do I love SM Entertainment - is it the Korean Wave?
Why do I love SM Entertainment - is it the Korean Wave?
The "Korean Wave" or "Hallyu" as known in South Korea, has stretched across the globe in recent years. This term "refers to the popularity of Korean media culture across East and Southeast Asia." Fans everyone are craving more and more of Korean entertainment and what it has to offer. I don't even know why I love Korean stuff so much. I think it's because of the Korean Wave and influence of my surroundings. I feel drawn to the whole Korean society and want to learn more. I love watching dramas when I have free time and I like to know about the latest news in the Korean industry. Whether it be a new song that debuted, or a new drama that is airing, I tend to want to find out more about what is happening there. It's weird because I guess I can call myself a "Korean-a-phile."
In a old podcast titled, "South Korean Culture Wave Spreads Across Asia," by Louisa Lim, it was stated that the Korean Wave is becoming increasingly popular in Asia especially. "It's a wave of enthusiasm for South Korean culture, its television shows and pop stars, and it's a wave of enthusiasm that's sweeping across Asia." For example, a Korean actress, Lee Young-ae traveled to China to promote ginseng. Thousands of her fans traveled far and wide just to catch a glimpse of their idol. I would call thatt a little crazy, but when I think about it, I would probably do the same thing to see a celebrity I adore.
During the past Friday and Saturday, the SM Global Auditions were held in Bayside, NY. I thought it would be a good experience to go and check it out. I went with my friend who was auditioning for modeling. She signed up last minute through e-mail, but still got a spot in the second group of the auditions; thank God we went there early! The doors did not open until 1 PM and we waited outside on the steps since 12:30 PM. I wasn't sure if I was allowed to go inside and sit with her and wait, but I did it any way because it was just too boring sitting outside alone. Although she was #200 and they started from #180, we still waited for 2 hours. There were a lot of people there, maybe around 600 or 700 heads max that I saw. We were all stuffed in a little room with people standing, sitting on the floor and people even waiting outside. It took forever.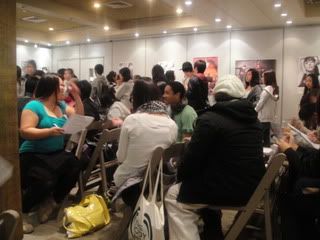 This picture was taken by me, Helen Peng. All credits & copyrights go to me. DO NOT STEAL! Taken on 11/28/2009.
Looking at all the posters that were hanging up, I was tempted to just take one home with me, but of course I didn't. It was hard to believe that I actually went to one of these gigs. Maybe next year, I'll audition for the fun of it because you never know what will happen. "All training expenses including food, lodging, etc will be borne by S.M. Entertainment." Can you believe that? If you get chosen out of the thousands of applicants who applied, you will be able to sign with them, move to California to train, and eventually debut in South Korea as a representative for SM Entertainment. That would be a dream come true.
There are so many stars who are currently signed with SM Entertainment who got to where they are because of the SM Global Auditions. There is "DBSK Micky YooChun, CSJH The Grace Stephanie, Super Junior Ki Bum and Han Kyung, So Nyeo Shi Dae Tiffany, and Trax J. Henry from Super Junior-M." I think that you can gain a lot from just auditioning for something. Your dream can come true and you never know what will happen. A lot of these rising Korean superstars were born and raised in America, but they have Korean roots. If you persevere and pursue what is important to you, you might even succeed.
Another problem SM Entertainment has been facing lately is that a lot of their stars have been coming down with Swine Flu. In a recent Korean news article, it has been reported that SHINee's youngest member, Taemin has come down with H1N1. He is the third member in the group to have been diagnosed with Swine Flu since the beginning of November. "The boy band had topped various music charts in Korea for several weeks with 'Ring Ding Dong' from their third mini-album '2009, Year Of Us' which was released in late October." Despite the Swine Flu, SHINee still strives to continue their scheduled live performances even though missing a member. "SHINee will be promoting their current album with its remaining four members once again until Taemin recovers." I wish them luck.
One negative part I don't like about the Korean industry right now is that most stars get plastic surgery. Almost 90% of uprising stars get plastic surgery after they slowly gain their stardom. Why can't anyone stay natural any more? Everything just has to be perfect to them. Their skin has to be pale, their face have to be clean: no pimples, no acne, no oil, they have to be more than fit: skinnier than the average, and everything they do, they have to remember that they hold the name of their companies. Everything is about giving face. "Over the last three years, there's been a 30-percent increase in foreigners coming to have plastic surgery," says Dr. Chung Jong-pil, who works at the Cinderella plastic surgery clinic in Seoul. "It's all because of the Korean wave. A lot of Chinese and Japanese have surgery to make themselves look more like Koreans." I don't like plastic surgery because I feel that it takes away the true beauty of a person and it totally ruins someone's image. Be happy for what you have, what your parents gave you, and what God gave you.